Welcome to Inspiration Wednesday!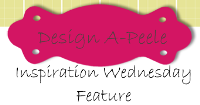 I decided that I know a lot of great people and wanted to "show them off!" So even though this blog is all about decorating my house and fashion I wanted you to meet Sharon - a girl on a mission! So meet
Sharon
! She just started on a journey about 2 months ago to lose 60 lbs. You know what?? She's already lost 25!! Can you believe that?
This is her before:

And this is her After:

Can you believe how great she looks!! 25 lbs lost certainly made a difference. It has been so encouraging to read through her journey over @
The Incredible Shrinking Sharon
. You can even read about her journey over @
Former Fat girl
. She's had her good days and her bad days, but I have seen an incredible change in her countenance and her spirit. She even sounds different on her blog from the first to the most recent! She has learned to eat healthy things for her body and it has certainly made a difference most importantly in her heart but also her body. She is an inspiration to us all to stick with something that's hard because the result is definitely worth it!
As women we naturally are critical of our bodies. I am definitely not except from that party. It sadens my heart to think that we grope and complain about the way we look when we were created in the image of God! (
Genesis 1:27
) Yet, most of the time we are complaining and unhappy with our bodies, but aren't taking any action to make a change. Sharon is making change:) I pray for Sharon daily that she would see the Lord in this journey.