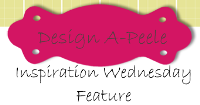 Each of my Inspiration Wednesday features have been different. Today we will follow in that route! I recently found
Chanty2Chic
. They have done some of the cutest, budget friendly projects. Some of those include making their own
vintage dominoes
and
dice
, and
making a picture frame holder out of bulldog clips
. They are great at making things look vintage, so I am taking a page out of their book!
They are just the cutest moms!


They are what I aspire to be for the following reasons:

1.) They are stay at home moms with 2 and 3 kids. Which I can't wait to be!!
2.) They pick up scary tools and do projects without their husbands. Even though I know MR.P loves spending time with me, I usually choose baseball and football games to do projects during (to keep myself entertained). So I am sure he would appreciate if I could pick up a scary tool once in a while.
3.) They are VERY creative. I could use a few more of those creative bones in my body.
4.) They think outside the box.

They are actually from a family of 5...4 girls and 1 boy! I am from a family of 6...5 girls and 1 boy! They are also Christians and love decorating on a budget. I love finding things in common with "friends". These women are definitely ones to model your creativity and life after.