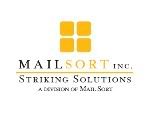 I just wanted to let everyone know about my friend Tamara who works for a promotional item company. Tamara has the solution for your company's Mailing, Fulfillment and Promotional Marketing needs. So please click the button above to see if Tamara can help you out! You can also call or email her! I am going to use her in my new business venture and so should you!

Tamara D. Bailey
TamaraB@mailsortinc.com

Striking Solutions Inc., a division of Mail Sort Inc.
2005 Newpoint Parkway
Suite 100
Lawrenceville, GA 30043
http://www.mailsortinc.com/
o 770-717-5500 x. 2262 / direct: 770-717-2752
f 678-739-2422
c 678-727-8747
"Mailing, Fulfillment and Promotional Marketing Solutions"
** I have created a button on my sidebar with her info as well to make sure you all have her info on hand quickly.